If your touchscreen ever displays a "Thermal Runaway" error as pictured below, follow this guide.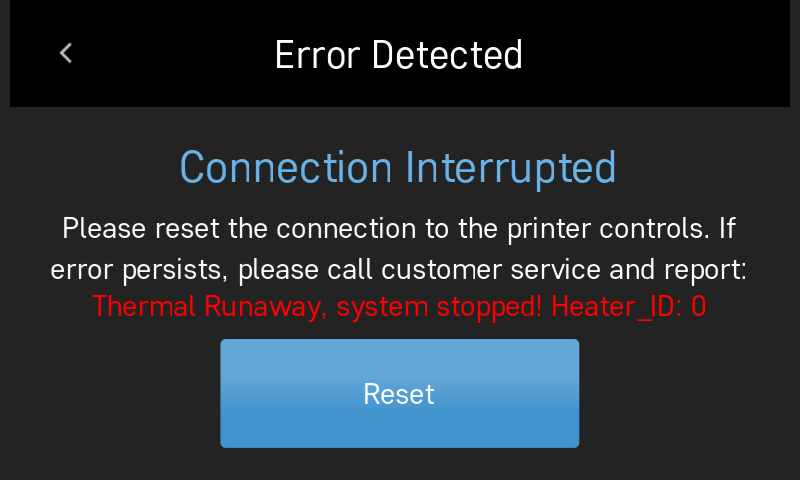 This is an error that can be addressed through your cooling settings within the slicing program you are using.
What is happening?
The thermal runaway error occurs when the hotend is unable to reach its target temperature within a certain amount of time while printing. This tends to happen when the fans are set relatively high (80-100%) during the first few layers of printing. The air flow from the fan bounces off the bed and back at the hotend causing it to cool faster than it can effectively heat up.
How do I address this?
Most slicers have a setting that tells the printer to gradually increase the fan speeds to Max/Regular Fan Speed by the time it reaches a specified height or layer number. By increasing this height or choosing a later layer (to our recommended settings or higher), the hotend will be far enough from the bed so that the extra cooling reflecting from the bed cannot significantly affect its performance.
Robo Cura Settings:
1) Locate custom settings on the right hand side.
2) Navigate to the "Cooling" drop down menu
3) Find the "Initial Fan Speed", "Regular Fan Speed at Layer", and "Regular Fan Speed at Height" settings.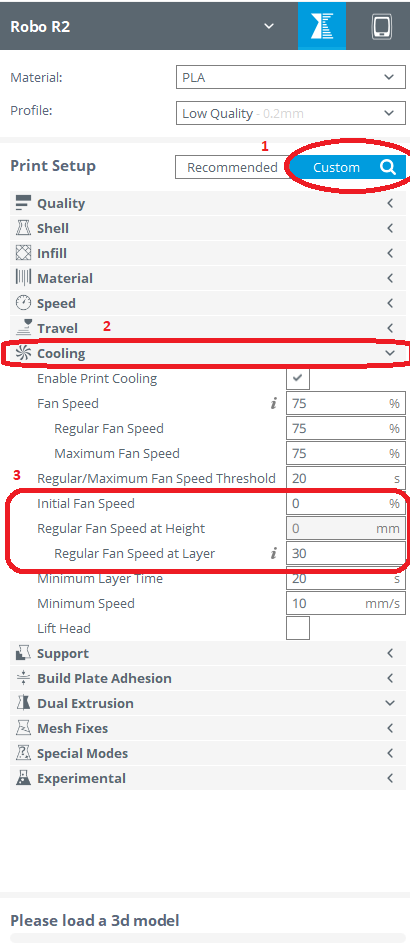 ______________________________________________________________________________
If you do not see these settings, follow these steps to make them viewable:
1) Hover your mouse over the "Cooling" title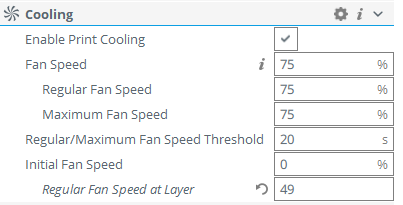 2) Click the "Gear" Icon that appears in the title bar to open your "Preferences" window
3) Locate the Cooling section and check off all the boxes beneath it to make them visible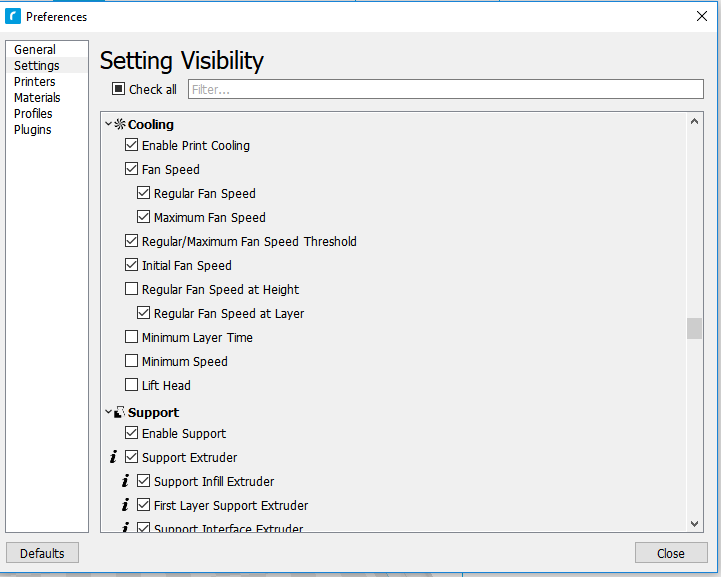 ______________________________________________________________________________
NOTE:
For these settings you can only set either the Height or Layer.
To specify by "height": click the "i" icon next to the "Regular Fan Speed at Layer" setting to activate the text box. This will allow you to edit the "Regular Fan Speed at Height" setting. The "i" should also disappear.
To specify by "layer" Click the "Undo" Arrow next to the "Regular Fan Speed at Layer" to activate the textbox. The "i" icon should reappear and you'll be able to edit the setting.
Height View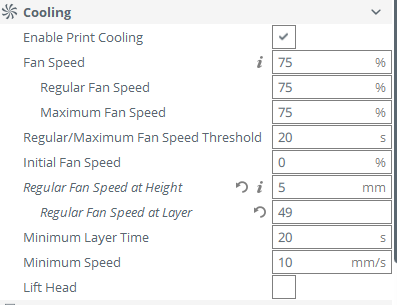 Layer View
We recommend the following settings:
Initial Fan Speed: 0%
Regular Fan Speed at Height: 1mm
OR
Initial Fan Speed: 0%
Regular Fan Speed at Layer 10
If you still experience the Thermal Runaway Error, try increasing the Height in increments of 0.5mm up to 5mm. The "Regular Fan Speed at Layer" setting will always update when you choose to specify it by "Height"
______________________________________________________________________
Printing Tip:
Generally you should always have the fans off for the first layer or two to ensure good adhesion to the build plate.