Clogged Nozzle
- Thumping sound and filament not extruding
- Stringy inconsistent print layers..
- Remove the nozzle and clear the jam.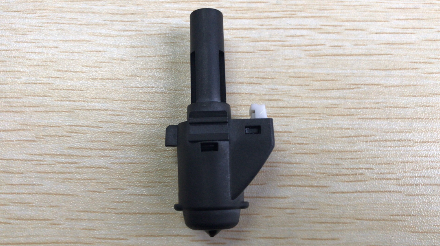 Q1. If the nozzle is clogged.
Method 1: Tap PREHEAT, heat up the extruder to 240, after heating is completed, press the air tube joint and pull out the filament guide tube. Check to see whether the filament is bent or filament tip is not smooth, cut the end of the filament so it is flat and re-install the guide tube and filament, tap LOAD.
Method 2: If method 1 not improving, use an unclogging pin tool to unclog filament. Method 3: If method 1 and method 2 not improving, please replace the nozzle.

Q2. How to replace the nozzle ?
Press the left and right clips and pull out the
Push in a length of filament through the filament intake manually, making it long enough to be cut off.
Rotate the filament spool anti-clockwise manually, making filament retreat back a
Press the left and right clips, install the new nozzle back into the extruder, making the nozzle slot and bottom of extruder are on the same
Tap FILAMENT > LOAD, nozzle replace completed when you see filament come out of new nozzle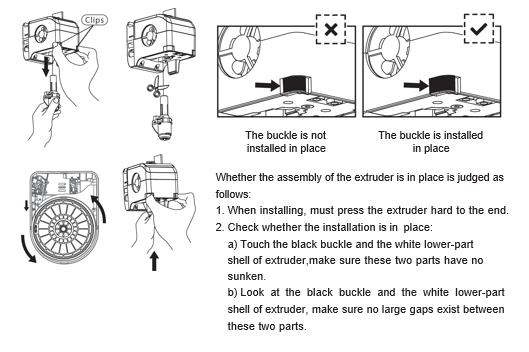 Q3. Do we need to do extruder calibration again after replacing nozzle?
Yes, do extruder calibration again to ensure high print quality as minimal error may be caused by extruder installation.
Q4. How to solve if displayed temperature is abnormal after replacing nozzle?
Abnormal temperature indicates extruder sensor can not be read, please check the nozzle whether it is well installed.
Q5. How to solve if no filament come out of extruder after tap Build model file and extruder begins moving normally?
Check the filament guide tube, make sure filament has been pushed into the extruder, if not, please tap Restart building model file after you see filament come out of extruder.
Check the nozzle whether it is clogged or not, if so, please refer to Q1 for
Q6: How to replace the filament?
Tap FILAMENT > REPLACE, after extruder heating up completed, filament will be unloaded, pull out the filament according to the
Insert new filament into the filament intake and feeding wheel, tap OK; New filament will be pushed into the
Replace will complete when you see new filament come out of
Q7: How to take down the model?
Take out the removable build
Bend the build plate, the plate will produce certain deformation, separating the plate away from the bottom of (Please use a scraper to assist removing when model is too small or too big). 3.Take down the model.
Q8: How to solve if the distance between nozzle and platform is too large (far away) or too small (hit) during printing?
Tap SETTING >
The extruder homing automatically, moves down some
Tap up and down arrow to adjust the distance between extruder and platform until extruder is just about to touch
Tap OK, printer will memorize current calibration position and start homing
Q9: Can we use other brand filament which is not produced by Robo?
Robo E3 support normal ABS and PLA filament but different brand filament has different ingredients. Robo E3 tests out default settings according to the properties of Robo ABS and PLA filament. Other brand filament is ok but not recommended for using, if that causes extruder clogging or bad printing quality or other failure, Robo will take no responsibility. These problems are not in the warranty of Robo .
Q10. Is Robo E3 compatible with all kinds of AC power input?
Robo E3 is equipped with a built-in 24V/6.5A power supplier, suitable for 110V-240V input voltage.
Q11. Is Robo E3 capable to be turned off automatically after printing job is finished?
No.