Unlatch the top filament spool holder on the rear of the printer by pressing the indentation near the top. Next, insert the filament feed tube through the filament sensor block in the feed hole closest to the outer edge of the printer. Then hang the filament spool onto the spool holder.

If the filament is twisted or bent, cut it with scissors. Unroll at least 12" (30 cm) of filament. Thread it through the base of the filament sensor block and into the filament feed tube until it comes out the other side.

Now select UTILITIES on the touchscreen. Then select WIZARDS from the list. Then, select FILAMENT LOAD to start the wizard. The on-screen prompts will guide you through the rest of the steps.

When prompted on screen, take the end of the filament and insert it through the filament feed hole at the top of the extruder until it is grabbed by the gears. Push the filament feed tube down to cover the exposed filament.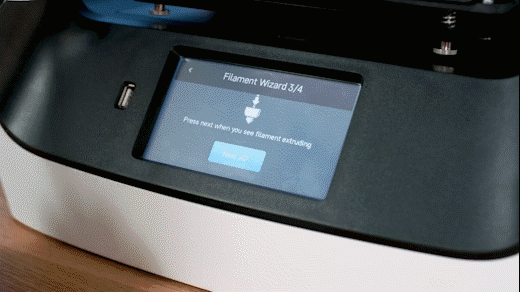 The filament drive gear should pull the filament down into the nozzle and extrude it out the other end. Once you see this, press NEXT on the screen, then press DONE. Use the tweezers to remove the excess filament from the end of the nozzle.