Calibration and setting Z offset
Next you'll want to calibrate Robo R2 by selecting UTILITIES on the touch screen. Then select WIZARDS from the list. From here you'll select Z OFFSET WIZARD. Now, the printer will wait to calibrate its home position.


Follow the directions on the screen by using the calibration card or a standard sheet of paper. Press on the 'Up' arrow to raise the bed up toward the nozzle of the printer. Slide the calibration card in between the nozzle and bed and continue pressing the 'Up" button until you feel little resistance on the card between the Nozzle and the print bed. Note: You still want to be able to slide the calibration card back and forth but with enough resistance that it is touching both the bed and the nozzle.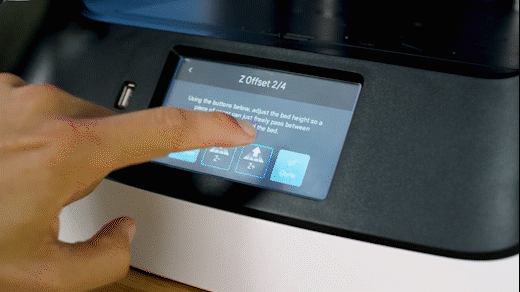 If your bed is too high and the calibration card does not have enough room to slide between the nozzle and the bed, press the down arrow until the calibration card can pass freely but with a slight resistance between the nozzle and the bed.

You can also fine-tune your offset by going to Utilities> Wizards> Fine Tune Offset