Sometimes a question come across as "Why does my printer temperature not match my temperature that I set in my printing settings?". Don't worry, we have a solution below.
The reason your printer heats to 230°C and 60°C at the beginning of any print regardless of your slice settings is due to a setting in the Octoprint GCODE start script within the Web Dashboard. Follow these easy steps to edit those temperatures if your material requires it.
1. Connect your printer (R2/C2) to the internet and navigate to your printer's web dashboard. Find the Settings button in the top right corner.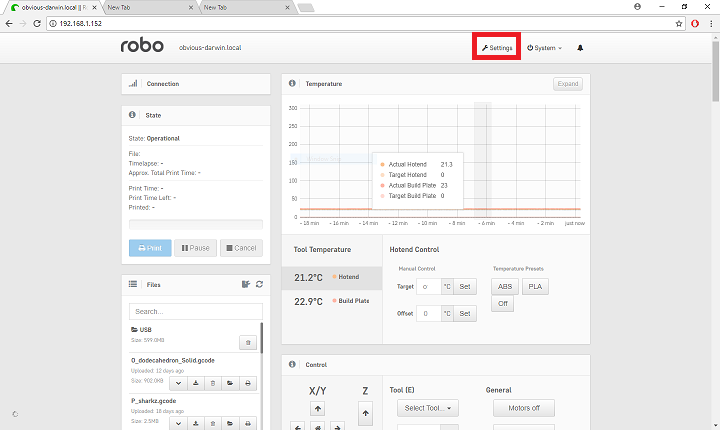 2. Once the Settings window pops up, Locate "GCODE Scripts" under "Printer" in the sidebar.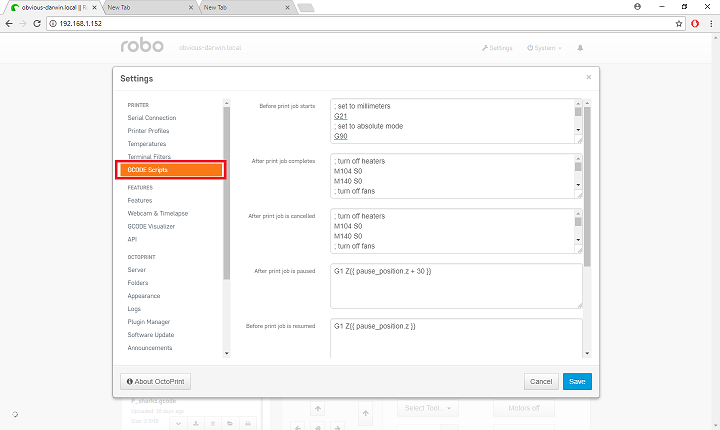 3. There are two sets of numbers in the startup script that you can change.
First look in the "Before print job start" section and find the line that says ";non blocking heatup of extruder bed." The two lines below it set the initial target temperatures. This sets the temperatures the printer preheats to while it's autoleveling.
M104 S230 sets the extruder temperature to 210°C. To edit this value, change the number after the 'S'. Do not change M104.
Similarly, M140 S60 sets the bed temperature to 60°C.
For example, if you wanted to set the extruder to 210°C and the bed to 55°C, then the lines would read
M104 S210
M140 S55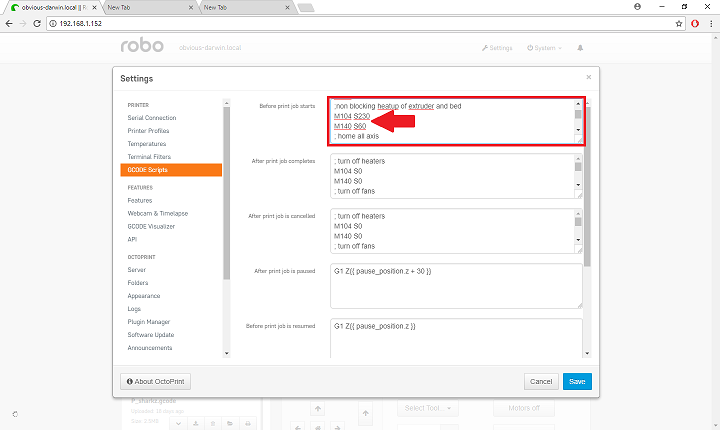 4. The second set of numbers controls what temperature the extruder and bed heat to before printing the priming line (the line across the front of the bed before the print starts).
Scroll down till you see the line ";heat to priming temp." Change these two lines to be the same as what you set for the previous lines in step 3.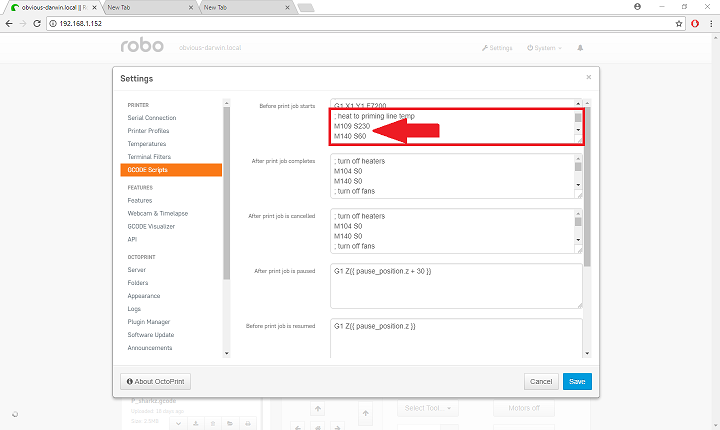 Make sure to hit the 'Save' button on the botton left of the window to make sure those settings are saved for the next time you print.
Note: These setting will not change back to default, so be aware that whatever you save in here will stay until you manually change it back.