How to Enable and Disable Plugins
Below is a way of disabling a plugin, but you can use this method for other plugins as well as enabling them.
From the plugins section of the settings, click the next page over until you see the line item labeled 'Filament Sensor'. Click on the small black button to the right of the item (circled in green in the picture below). This will disable the plugin. (If you are trying to enable the plugin, it will be an unshaded circle. Click it to enable and it will fill in to be a solid black circle).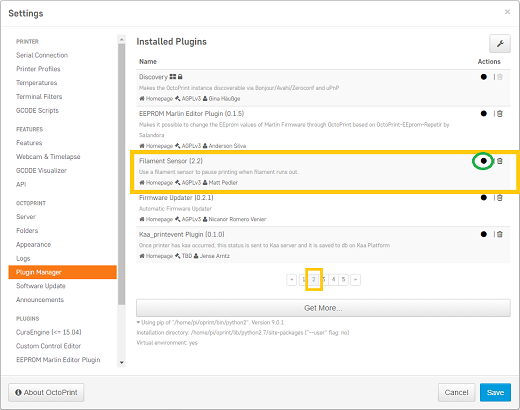 Once you have de-selected this plugin, you will need to restart Octoprint. A pop up will show on the top right of the interface - click 'restart now'. Your plugin will now be disabled and ready for printing.